News
Last Update :6/30/2020
Farmington's Johnson Recognized Nationally
Excellence in Club Management Award Winners
Farmington's Johnson Recognized Nationally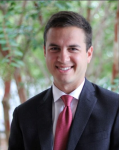 Brandon Johnson,
ECM, Club Manager, Farmington Country Club
Recipient of the Rising Star Award (assistant managers)
Farmington CC's Club Manager Brandon Johnson has been recognized with the "Rising Star Award". To be eligible for the Rising Star Award, an assistant manager must be nominated by his or her club/general manager. Each nomination must include a completed Official Nomination Form and a letter of endorsement from the club/general manager.
The Excellence in Club Management® Awards was founded by McMahon Group Inc. and is co-sponsored by McMahon Group Inc., Club + Resort Business Magazine and the National Club Association. It is an annual award that recognizes private club general managers, managers and chief operating officers who have exhibited outstanding skills in managing their club.
[ More News ]