News
Last Update :11/19/2014
Topgolf Coming to VA Beach
By Cindy Clayton
The Virginian-Pilot
©
VIRGINIA BEACH
Who knew it takes an army to run a driving range?
But then again, this isn't your typical bucket of balls.
Topgolf International will begin construction next month on a 65,000-square-foot entertainment center at Newtown Road and Interstate 264 that could bring 450 jobs to Virginia Beach, the city announced Tuesday. It's expected to open next fall.
Topgolf offers competitive golfing games for all ages and skill levels. Golf balls contain microchips that report each shot's accuracy and distance. Points are awarded for hitting targets.
The three-level facility will feature more than 230 high-definition flat-screen TVs along with food and drinks, private event space and 102 climate-controlled hitting bays that can host up to six players at a time. Prices would range from $25 to $45 per hour per bay depending on the time of day.
The company serves 2.7 million visitors a year at 13 locations, including Alexandria. It announced plans in April to build another facility in Loudoun County.
Topgolf plans to invest $29.9 million in Virginia Beach during the next three years. The city has approved a grant of $300,000 for the project.
Virginia Beach officials began wooing Topgolf last year, said Warren Harris, the city's director of economic development.
"They liked the tourism number that comes out of this market," Harris said.
Topgolf is the second national entertainment company to land in Virginia Beach recently. Dave & Buster's gaming arcade moved into Lynnhaven Mall last year.
But Topgolf will bring many more jobs.
"Those 450 jobs are what it takes to run Topgolf once it opens," said Jason Evans, a company spokesman.
About 100 of those will be full-time positions for managers, marketing and sales, and operations. The rest will be part-time jobs typical of the entertainment or restaurant industry, such as servers, bartenders, kitchen workers, maintenance and guest-services positions.
The company estimates it will serve 450,000 people in the first year of operation. The announcement said a third-party auditor estimated the facility's economic impact on Virginia Beach to be $264.5 million over 10 years.
"We're excited to welcome them to the neighborhood," said Mary Elizabeth Collins, general manager of the Holiday Inn Virginia Beach/Norfolk hotel and conference center on Greenwich Road.
The progress of the construction can be followed on facebook.com/topgolfvabeach and @topgolfvabeach on Twitter and Instagram.
Cindy Clayton, 757-446-2377, cindy.clayton@pilotonline.com
Stacy Parker, 757-222-5125, stacy.parker@pilotonline.com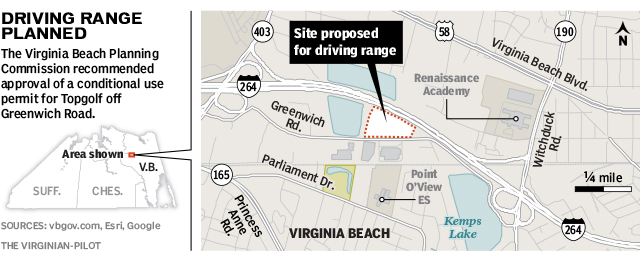 [ More News ]