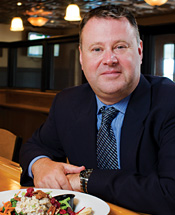 Some operators are finding that a balanced food-and-beverage department can contribute to a healthy bottom line
Ciaran Carr drew on more than a century of family tradition to transform Wintonbury Golf Club's flagging restaurant into a moneymaking pub dubbed, with more than a touch of Irish whimsy, the Tap Inn. With just $15,000 and his own elbow grease (plus that of some staffers), he turned an anchor into a sail. The pub hiked food-and-beverage revenues almost 12 percent in 2011, even as one of Bloomfield, Connecticut's "wettest, snowiest, stormiest" years on record sent play plummeting.
In tiny Brook, Indiana, where the population of the entire county barely tops 14,000, Mike Armstrong was similarly frugal—and successful—overhauling his food-and-beverage operation at Hazelden Country Club. Trolling eBay for used restaurant equipment such as food warmers, Armstrong spent a mere $3,000 to upgrade his facility and effectively double his catering capacity. Last year's food-and-beverage revenues grew 35 percent.
Meanwhile, Nick Rotondo was "nervous" when he invested close to $3 million to nearly triple the size of the clubhouse at 27-hole Terry Hills Golf Course in Batavia, New York, in 2005. But play was so robust in those days that Rotondo felt sure he could absorb the risk.
"I thought the golfers were going to carry me," he recounts. "But golf has dropped right off the cliff, from a peak of 60,000 rounds down to about 40,000. It's just so scary."
These days, it's the food-and-beverage business that's keeping the lights on. "It's been booming for us," Rotondo notes. "Revenues have been up 10 [percent] to 15 percent every year since our new facility opened."
Carr, Armstrong and Rotondo are among a growing number of golf course operators finding that their most profitable greens are no longer at the end of each fairway but those served on a plate. The trend runs contrary to the historical norm in which the dining room served largely as bridesmaid to the facility's main business: golf.
"It sure is a flip," admits Frank Denniston, president of Western Golf Hospitality Group, a division of Western Golf Properties that has managed more than 120 facilities, including a handful overseas. "But food and beverage are carrying a lot of our operations right now."
Denniston, who came to golf from a background in hotels, is a self-confessed "crusader" for a sharper focus on what goes on beneath the clubhouse roof. His first encounter with a food-and-beverage operation in golf left him pleading with the club to, in his words, "Stop the madness." Basic business rules applied to other departments were being ignored in the restaurant. It was hardly the last time he found such a double standard that made restaurants, banquet rooms and snack bars sub-standard.
"What needs to happen for golf courses to succeed is a paradigm shift," proclaims Denniston in a yet-to-be-released whitepaper. "Success is not measured by the number of golfers or total rounds, but by the dollar amount on the bottom line. The most overlooked profit center at clubs across the country, and the one capable of delivering substantial returns, is without question the food-and-beverage operation."
Food save golf? Doubters may scoff, but Denniston is not about to blush. "I'm not embarrassed about my P&L statements," he says. There are other numbers that he recommends golf course operators consider and why Western Golf Properties is adamant that food-and-beverage business should "never be an amenity to golf."
"What percentage of all Americans play golf—7 [percent] or 8 percent?" Denniston asks rhetorically. "How many in the entire population eat? Everyone makes time to eat, but even golfers don't always have the time to golf."
Observers like Whitney Reid, president of Arizona-based Reid Consulting Services, suggest that the recession precipitating golf's decline simultaneously served as the catalyst for some facilities to lift their game in food and beverage. "The recession brought a closer light on every cost center," she says. "Clubs have had to take a closer look at their food-and-beverage operation and how they manage it."
As they have, trends have emerged, some obvious and some less so. As Denniston puts it, "Fine dining is dead. Casual is what's hot right now."
For her part, Reid observes that people are "much more focused on health and wellness overall." Multiple dishes with smaller portions are becoming popular, as is offering food and wine pairings by course. While some of those trends are regional, Reid says that, overall, there's a greater emphasis on locally grown produce.
"Some clubs are putting in their own herb gardens," she notes. "Some are even trying vegetable gardens."
Another significant trend is that people are spending less, particularly on what Denniston terms "events of a lifetime" such as weddings or graduation parties. There was a time when Western Golf Properties averaged 150 people at $175 each for weddings. Now, Denniston says, the numbers are closer to 90 people at $85 per person.
At Alta Vista Country Club in Placentia, California, general manager Karl Reul says that the science is in keeping those events profitable. "Even though revenues are not where they were, we've been able to keep our food-and-beverage margins steady at the same levels they were in 2007," he says.
One means to that end is a menu that makes broad use of the same base of ingredients. "People often ask how you can make money with so many dishes," Reul says. "It looks impressive having all these options. But if you really dig deep, you see that there's variety with a lot of the same ingredients. We have some skillful people."
Reul also pays close attention to information from his point-of-sale system, which enables him to respond to shifting tastes and trends. He knows salads are popular on ladies' day and that burgers and steaks dominate on Wednesday's, a big men's day on the course.
"We know what sells and what doesn't, so we look for opportunities to make a little more on our really popular items," Reul says. "No one is not going to buy something because it costs a quarter or 50 cents more." Case in point: Stella Artois is the "cool beer now," and Reul prices it accordingly. Some time ago, it was Miller Lite and before that, Amstel.
Product is only part of the equation, and Alta Vista, which is managed by Billy Casper Golf, places a heavy emphasis on delivery. Reul trains servers to greet guests within the first few seconds that they walk through the door, and every effort is made to get orders out within eight minutes from the moment they are placed. If that turn time ever eclipses 10 minutes, Reul gets involved to address the issue immediately, then meets with the chef to understand what caused the delay.
"We want to 'wow' people so they will tell their friends," he explains. "That means your staff has to be willing to be held accountable. There's a lot of praise when things are good, but if they're not for some reason, then they know we will talk. You can't let your guard down."
Reul says Alta Vista's food-and-beverage staff completes Billy Casper Golf's trademarked "ACE the Guest Experience" training program, which stresses teamwork. He extends that philosophy by ensuring all engaged employees share in tips from banquets. Everyone, from the seller of the event to the dishwashers, receives a cut of the club's 20 percent service charge on banquet fees. Reul says the service is often so good that clients add even more to the gratuity. "Your success is always in your people, and a big reason for ours is that we have good, positive people who buy into the overall performance of the operation," he adds.
But even while some operators are finding evidence to support Denniston's position that food and beverage is an integral component of overall success, substantial numbers are headed in the opposite direction. "Another definite trend now is for clubs to lease out their food-and-beverage operations," he says. "That makes no sense to me. Monthly lease payments might look good on a contract, but you're giving up control of the vision and the synergy at the facility level."
Armstrong witnessed exactly that at Hazelden Country Club, which prompted him to bring his hitherto leased food-and-beverage operation back in house. A golf course superintendent by training, he bought the club in 2007 and with "no clue" about hospitality, was happy to hand off that arm of the business. But over time, "seeing all that money go out of the place" began to grate. So he studied up, hired his own people, took charge, and hasn't looked back.
One of the advantages of being in such a sparsely populated area is that Hazelden's increased kitchen capacity makes it one of the few facilities large enough to handle groups of up to 200 people. As such, Armstrong quickly indentified banquets as the club's niche. Initially, he pushed buffets because they required fewer staff members. But as he gained experience and could read his operation in finer detail, he saw a lot of waste. "So now, we really push served dinners and we're not wasting $13 servings of prime rib," he notes.
Table service does require more staff, but now with control of his cost per plate, Armstrong still comes out ahead. What's more, the very reason he was able to secure such affordable, quality equipment online was the same reason he was able to recruit affordable, high-quality staff: The recession shut down a lot of restaurants. "We have some really great people, and we work so well together," he says.
Location matters a lot for Rotondo at Terry Hills, too. The club sits midway between Buffalo and Rochester, which Rotondo says puts about 2.5 million people within 45 miles. That's why he's less bullish about the prospect of food and beverage pulling some golf operations back from the brink, and certainly not by the means he chose. Rotondo's clubhouse expansion from 3,500 square feet to 10,000 square feet was supplemented by several outdoor areas, such that he can comfortably cater to as many as 500 people a day at different locations. That's a far cry from the nine-holer the course was when he grew up across the street. He bought it in 1971, added nine holes in 1985, built another nine in 1995, and then went all out with the clubhouse in 2005.
"I've got to say I don't recommend doing this for everybody," Rotondo admits. "I don't want to tell people to build clubhouses and it will be their savior because I'm not sure that's the case. Our restaurant revenues have increased every year since 2005, but we're in a unique spot where so many corporations and businesses have offices in both Buffalo and Rochester. They use us to meet in the middle."
Golf course operators may not be able to change their geography, but they can do something about their demographic. And as facilities try harder to embrace families, food and beverage plays an increasingly important role.
"The 35- to 50-year-olds who used to play all the golf are now waiting later in life to have children and they're more family-centric," Reid says. "Food and beverage offers ways to program social aspects of a club to help keep the whole family engaged."
And in the new age of consumerism, business owners who remain engaged with their customers—whether through golf or the grill room—are far more likely to enjoy healthy bottom lines than those who fail to do so. Certainly that's a notion that any course operator would do well to chew on.
Trent Bouts is a South Carolina-based freelance writer and editor of Palmetto Golfer.